Grow Your Business with Niche Travel Group

Share your passion,
grow your business

Are you interested in
creating a new revenue stream?
Looking for new ways
to stand out in your industry?

The Niche Travel Group
partners with businesses, organizations and clubs to host amazing affinity group trips

Share your passion
and grow your business
Are you tired of offering the same events and fundraising activities every year? It's time to offer your members and customers something new and different!
Would you like to create a new revenue stream, stand out in your industry and travel for free? Do you think your customers and members would appreciate an opportunity to participate in exciting and distinctive travel?
The Niche Travel Group partners with businesses, organizations and clubs to host amazing affinity group trips to share their passion, raise funds and grow their business.
Visit wine regions of the world during the harvest, share the experience with your wine club members and create raving fans.
Ideal for Vineyards, Wineries, Restaurants, Chess Clubs, Bridge Clubs, Scuba Clubs, Company Incentive Trips, Non Profit Organizations.... you get the idea.
Niche Travel Group - Group Tour Highlights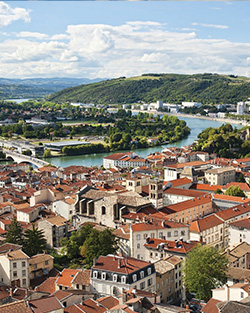 Chamber of Commerce River Cruise

2023
Indulge in French flavors on a palate-pleasing itinerary that highlights the essence of France's Burgundy and Provence.
Join us for a seven night river cruise October 5 - 12, 2023 aboard the beautiful AmaCello.
Uncover the Roman history of Chalon-sur Saône and delight in charming Tournus with its towering Romanesque abbey and historic apothecary shop. Visit French châteaux from Burgundy to Provence, taste your way through the French culinary capital of Lyon and visit the Papal Palace in Avignon.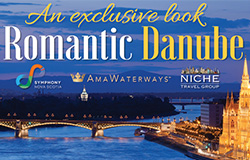 Symphony River Cruise

2020
Symphony Nova Scotia Conductor's Cruise, hosted by Bernhard Gueller and Shirley De Kock Gueller!
Bishop's Cellar Wine Tours

2020
Caressed by Atlantic breezes, the vineyards that cover the rolling hills along the rivers of Aquitaine have for centuries produced France's most remarkable wines.
Join us on May 24 2018 and celebrate joie de vivre in this land of wine and oysters, truffles and cognac, as you cruise the Dordogne & Garonne Rivers.
Dine with your own Sommelier and wine pairings each night. This trip is a must for anyone interested in the best of French culture, lifestyle, wine and food.
Taste of Tuscany

2020
Join our specialty host as they taste their way through Tuscany. If you want to experience Tuscany like the locals this is the trip for you!
Benefits to our Partners:

Create a new revenue stream or fundraising opportunity.
Build loyalty and deepen the relationship with your members and customers.
We handle all of the travel planning so that you can focus on your daily operations. (We do everything except take the trip for you!)
Grow their business and/or raise funds in a unique and exciting way.
Stand out in the industry.
Drive sales through social events to promote trips.
Each trip builds on itself annually and becomes bigger through word of mouth.
Niche Travel Group amenities and benefits.
Give Faith a call to learn more:

or by email at: