Destination Guide -

Discover Amsterdam
When Europe calls we often think of Paris, London and Rome, but the oft overlooked Amsterdam is an exceptional world-class destination to consider.
Amsterdam Travel Guide
Boasting more bikes than people and more museums per capital than any other place on earth, Amsterdam is an extraordinary experience just waiting to happen. Let's take a moment...to dream of a walk through the tulips in the heart of the Netherlands...
Why travel to Amsterdam?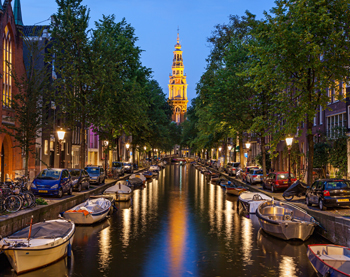 It is a city like no other. Undeniably unique and diverse, it is a place you'll want to rest your feet at least once in your lifetime. Appreciate the tall, skinny 'canal houses' that are the calling card of Holland; absolutely iconic to this beautiful city and the like can not be seen anywhere else.
Offering incredible monuments to the 1600s, Amsterdam is living history. A tribute, in and of itself, to a time when the city was booming and the people were faced with extremely limited land upon which to build. It was the the ingenuity of the Dutch who adapted to to their constraints and designed 'tall and slim' rather than 'short and wide'. Buildings and homes alike were constructed on long poles dug deep into the ocean and still they stand, quaintly lining the stunning canals, providing all who visit with an opportunity to amble in awe.
In and amongst the architectural beauty is a thriving night life, a world-class experience for every foodie, a diverse cultural scene, and pristine parks to tempt you to stay for days.
What to see?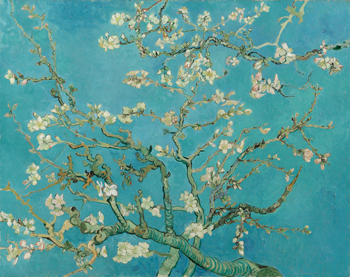 The canals: No visit to Amsterdam is complete without a boat tour. With more bridges than Venice, a lazy afternoon spent floating through history will not disappoint.
Red light district: Grab a coffee and wander through this notorious and fascinating locale.
Van Gogh museum: Bask in the incredible artistry of one of the world's most famous artists. (Van Gogh's Almond Blossom, pictured)
The Anne Frank House: A sobering exhibition and tribute to Jewish wartime diarist Anne Frank.
What to do?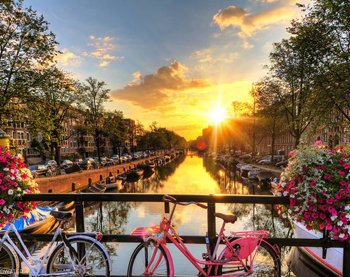 Add some fries! Yes, find a "Manneken Pis" shop and marvel at the Dutch's love for unique sauces to dip your fries.
Rent a bicycle and make your way to the stunning Vondelpark. Have a picnic lunch in your bare feet and commune with the locals.
Let your hair down for an afternoon at the Heineken museum. Learn about the famous brewing process and enjoy free Heinekens at the two 'pit stops'.
Decide for yourself if the acoustics at the Royal Concertgebouw really are the best in the world by attending a free lunchtime concert at this historic music hall.
Visit in April, when more than seven million flowers are in bloom. Head to the Keukenhof in Lisse to tiptoe through the Tulips.
Just outside the city...
Interested in a phenomenal and unforgettable day trip? Nine kilometers outside the city (and just a 30 minute zero incline bike ride), lies the charming village of Ouderkerk aan de Amstel. As you ride along the Amstel river you'll pass the world famous Magere Brung (or 'Skinny Bridge'), view the Riekermolen windmill, and happen upon a statue of Rembrant placed to commemorate the views that inspired some of his 17th century classics. From here, carry on to the quaint village through the beautiful countryside.
Fun Facts!
There are more bridges in Amsterdam than there are in Venice.
Most of Amsterdam lies below sea level, on land reclaimed from the ocean.
There are more bicycles than people in Amsterdam.
The water in the canals is so clean they give it to zoo elephants to drink.
The Dutch people are the tallest in the world!
Amsterdam is home to the highest number of nationalities of any city in the world.
Currency
In Amsterdam (as in all parts of the Netherlands and many other countries in Europe), the accepted currency is the Euro. Unless you want to have a large amount of currency when you land, the best option is to head to an ATM upon arrival. The exchange is typically better than what you would get at a bank in Canada. Should you arrive by air, there is an ATM within the baggage claim area and again, everywhere in the city.
Travellers Tip: Don't use those called "Cash Box" as they charge huge fees.
Weather
The climate of Amsterdam is similar to London so pack for layering and anticipate some cooler nights and possible showers. The most popular time to travel to Amsterdam is during the summer months (July - August), however spring (April - June) is typically the driest season and arguably the most beautiful time to visit.
Voltage
The power voltage in Amsterdam (as in much of Europe), is 230V and the standard frequency is 50hz. This means that if you don't want to blow up your electronics, bring both an adapter and converter. These can be easily found at Best Buy for a minimal charge.
Visa Requirements for Canadians
Canadians do NOT need a VISA for travel to the Netherlands for stays of up to 90 days.
Getting to Amsterdam from Halifax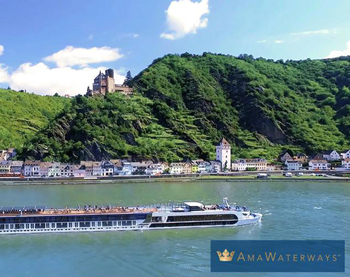 By air: With our fantastic international airport, those departing from Halifax have a wide variety of options getting to Amsterdam. The best flights depart in the evening, stop in London, Frankfurt or Reykjavik and arrive in Amsterdam at midday.
By train: The Central Train Station is the hub of Amsterdam and connects you to the rest of Europe with daily departures to just about anywhere. Travellers Tip: Ask your Niche Travel Group agent about purchasing a Eurail pass before leaving Canada to take advantage of the best deals.
By sea: There are overnight ferries from the UK as well as cruise lines that stop in Amsterdam. Speak with your Niche Travel Group agent for more information.
By river cruise: If you really want to treat yourself, book a Rhine river cruise that either begins or ends in Amsterdam. We thoroughly recommend this option as it is the best way to see the sites.
Travellers Tip: Ask us about Try a Tulip Time and the stunning Rhine Gorge Valley)
Planning your Amsterdam Holiday
Interested in learning more about Amsterdam? Contact us today!
ENRICHING YOUR LIFE ONE VACATION AT A TIME


Select your next adventure below and meet the expert who will help.