Destination Guide -

Discover Prague
Nicknamed "The City of a Hundred Spires," the Czech capital is truly one of the most beautiful cities in the world.
Prague Travel Guide
Fortunate to have escaped the bombings of the two great wars, and now, less than 20 years since emerging from the Iron Curtain, Prague welcomes upwards of six million visitors a year.

Why travel to Prague?
Prague is the heart of the real Bohemia. With influences from Romanesque, Gothic, Baroque, and modern periods, each 'town' offers a slendor of stunning archituecture.
Travellers Tip: Plan your sight-seeing by region to spend your time efficiently.
What to see? What to do?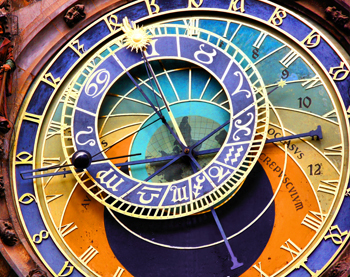 Old Town Square: Located within the 'old town' is the magical main square of old world Prague, offering dozens of colourful facades, the looming Týn Church, and a fanciful 600 year-old Astronomical Clock (pictured). Stroll amongst the Baroque statues that line the iconic medieval Charles Bridge, and make your way to the Jewish Quarter to peruse the finest offering of Jewish sights in Europe, as well as a venerable cemetery. The Museum of Medieval Art has arguably the best Gothic art in the country and the Havelska market is a engaging stroll.
The 'new' town: Ramble down the lively and modern Wenceslas Boulevard, pour over the Art Nouveau in the Mucha Museum and, nottomention, the Museum of Communism is in this region as well. Don't miss a trip up Petrin Hill, a mock Eiffel Tower and brilliant views of the city make it well worth the climb.
The Castle Quarter: Home to Prague Castle (one of the largest castle complexes in the world and the traditional seat of Czech rulers and the old Royal Palace) and St. Vitus Cathedral, the most important church in the country, complete with climbable tower.
Traveller Tip: Long-lines are common St Vitus, begin your day here to avoid them.
Just outside the city...
Český Krumlov: A delightful bohemian walled-town and UNESCO world heritage site; known as 'little Prague'. This delightful village offers a castle, museum and amazing streets to stroll through along the river. It's just a three hour train ride (one-way), or consider a 10-hour round-trip coach tour. A must see!
Terezín Concentration Camp: The largest in the country during WWII.
Kutná Hora: One hour away is the ancient silver-mining city, famous for the Sedlec Ossuary, or 'bone-church' encompassed with 40,000-70,000 human bones adoring and decorating the chapel.
Fun Facts!
The locals drink more beer per capita than anywhere else in the world (including Canada!).
Charles IV laid the first stone on Charles bridge at 5:31am on July 9, 1957 because its dates could be written 1-9-5-7-9-7-5-3-1 (year/day/month/time)
There is a graffitied 'John Lennon wall', situated on a quiet street near Charles Bridge that began after his assassination in 1980.
The Rolling Stones played one of the first international concerts in Prague in 1989 after the Velvet Revolution. The music legends paid 32K to have their lighting designer set-up lights throughout Prague Castle so it could be viewed at night. The system is still in use today.
Currency
The currency in the Czech Republic is the koruna (CZK) - $1 CAD is approximately 16CZK. The koruna is a EU currency so you may also see prices listed in Euros, and/or be able to use Euros in tourist locations.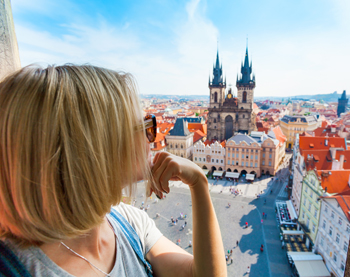 Weather
Weather in Prague tends to be less extreme, still, there are four true seasons. July will be the hottest, with average highs of 18℃, but humid. January's average temerpature is -1℃. (Note: The region's humidity makes so that you feel the cold easily. If traveling in winter months, ensure to layer up with sweaters, scarves and hats.) The most rain falls between May-August (expect rain at least one out of every two days).
Travellers Tip: Pack a light raincoat in spring and summer, but don't worry, rain will not likely last all day.
Voltage
In the Czech Republic the power sockets are of type E. The standard voltage is 230V and the standard frequency is 50hz. This means that if you don't want to blow up your electronics, bring both an adapter and converter. These can be easily found at Best Buy for a minimal charge.
Visa Requirements for Canadians
Canadians do NOT need a VISA for travel to the Czech Republic for stays of up to 90 days. Note: An onward ticket or proof of next destination is required and your passport should be valid for 6 months beyond date of travel.
Getting to Prague from Halifax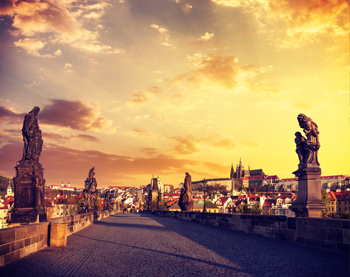 By air: Prague's Václav Havel Airport is conveniently located just 10 miles (16km) northwest of the city centre and is the Czech Republic's main air transport hub. From Halifax, you are likely to connect via Toronto/Montreal then again in Frankfurt/Munich with Air Canada or Lufthansa. Condor flies seasonally, Halifax- Frankfurt-Prague and from London; EasyJet flies to Prague direct.
By train: The main station Praha hlavní nádraží is just a five minutes walk from Wenceslas Square and 15 minutes from the Old Town Square. Note: From Viennait takes between 4-5 hours and 7-8 hours to reach Budapest by train.
By river cruise: Companies such as Scenic, Avalon, AMA and Uniworld, typically incorporate Prague into their Danube itineraries with a pre or post stay by coach. It's well worth the add-on, as it's a wonderful beginning or end to any European journey. Speak with your Niche Travel Group agent for more information.
Planning your Prague Holiday
Interested in learning more about Prague? Contact us today!
ENRICHING YOUR LIFE ONE VACATION AT A TIME


Select your next adventure below and meet the expert who will help.