Asia Specialist
Sarah Hill, Asia Specialist
Sarah Hill is also a River Specialist
You could take a thousand trips to Asia and never experience the same destination twice!
The diverse history and culture mean endless possibilities for new and exciting travel memories; from the hustle and bustle of Tokyo, to the remote and picturesque islands and beaches of Thailand. Among the treasures to take in are: the amazing ruins and seven wonders of Angkor Wat in Cambodia, the Great Wall in China, temples, caves and exotic wildlife (e.g. Are you looking to get up close and personal with monkeys and elephants?). Or perhaps climbing Mount Fuji or Mount Everest and cycling through the countryside of Vietnam are on your radar. Wherever you're planning, the food in each of these countries is as diverse as it is delicious and fresh!
The choices are overwhelming, but fear not; if you are looking to explore the vast wonder of Asia, look no further than our resident Asia Specialist Sarah Hill.
Sarah has lived in Japan and travelled extensively throughout the country; experiencing: high-speed bullet trains, Mt Fuji at sunrise, tea-ceremonies, the famous Geisha-district, Hiroshima, the geo-thermal spa baths and hundreds of castles and temples. She knows the ins-and-outs of the culture and how best to get around on your own or with a group. Speaking from experience, she knows what to see and how to spend wisely in what can feel like a complicated destination.
Sarah has also spent time in Thailand touring Bangkok, the jungle and the amazing beaches of Krabi.
Interested in Malaysia? Sarah has ventured to Borneo, climbed the sacred Mount Kinabalu and observed Orangutans in their natural habitat.
Is Cambodia on your Bucket List? Ask Sarah about her experience watching the famous Angkor Wat complex come to life at sunrise. She has floated along the Mekong, walked through the harrowing Killing Fields and learned about the tragic Khmer Rouge genocide. She has also visited Vietnam, Singapore and South Korea-and the DMZ - each with its own unforgettable food and culture.
Sarah joins the Niche Travel Group after managing a busy Dartmouth storefront travel agency for more than 12 years. She has booked thousands of trips all over the world and is passionate about creating a personalized vacation that fits your interests and zest for adventure. Sarah's wealth of experience and customer service make her the ideal agent to help make your next vacation a unique and memorable one.
Sarah has booked thousands of trips all over the world and is passionate about creating a personalized vacation that fits your interest and zest for adventure.
Sarah's Travel Gallery
Highlights from Sarah's Travel Log - Asia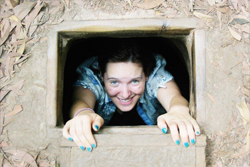 Asia
Vietnam: Cu Chi Tunnels (pictured, left)
Japan: Traveled throughout by car, train and bike and climbed Mount Fuji (pictured above with backpack and the sunrise)
Thailand: elephant trekking and snorkelling
Cambodia: Angkor Wat by Hot Air balloon (pictured above)
Malaysia
Singapore
South Korea
Borneo: Up close with wild Orangutans; and climbed Mt Kinabalo, night-safaris (most of this with Intrepid)
ENRICHING YOUR LIFE ONE VACATION AT A TIME


Select your next adventure below and meet the expert who will help.