Destination Guide -

Discover Budapest
Ranked as the fastest developing urban economy in Europe, Budapest is blossoming in media, art, fashion, research, technology, education and entertainment; Hungary's capitol invites you to see the future, with your feet firmly planted in an historic city.
Budapest Travel Guide
Budapest calls with unparalleled beauty, history, culture and growth. Soak your bones in the healing waters of this 'spa city', set your eyes on stunning European architecture and let yourself go as you float along the Danube river with a glass of wine in hand. It is an enriching experience you will never forget.

Why travel to Budapest?
Cited as one of the most beautiful cities in Europe and ranked as the world's second best city by Conde Nast Traveler, Budapest simply can not be missed by those hungry to see it all. Growing steadily for centuries it is now one of the largest cities in the European Union, yet it is also one of the most affordable. A rich splendor of museums, mineral spas, stunning scenery, delectable restaurants, eclectic shopping and a vibrant night life, it is the next great travel destination. Less than 300Km from Bratislava (Slovakia), Vienna (Austria) and Zagreb (Croatia), and aside the banks of the majestic Danube river, it is an wondrous hub easily visited by train, plane, bus, car and river boat.
What to see?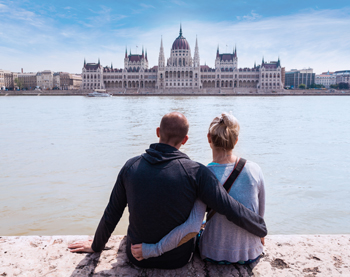 The Danube: Europe's second longest river, it cuts right through the historic centre of Budapest (classified as a UNESCO world heritage site). This central district is home to the regal Hungarian Parliament, Buda Castle, Fisherman's Bastion, Gresham Palace, Matthias Church and the Liberty Statue.
Chain Bridge (pictured, above): Built in 1849, the "chain bridge" famously joins the Buda and Pest sides of this centuries old city. Traveller Tip: Walk across and leisurely take in the beauty of the Danube.
St. Stephen's Basilica: The Roman Catholic basilica offers stunning views of the city and is inspiring from both the inside and out. A donation of a few Euros will get you inside. Traveller Tip: Be sure to sit at one of the many restaurants in the square and enjoy a coffee or beer...and the exquisite atmosphere.
Parliament Buildings (pictured): With 691 rooms and staircases stretching for 20 km this magnificent building is topped by a dome that sits 226 feet high (and at one time the biggest in the world). Organized tours that pick you up from your hotel start at just $40 Canadian. Traveller Tip: Book well in advance as these tours sell out fast!
What to do?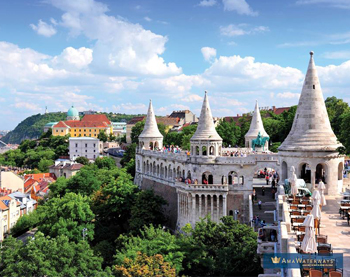 Take in a cruise on the Danube! This is a must! With daily offerings from casual lunch cruises to candlelit fine dining evening cruises, as well as pizza and beer and a folk show cruises, there's sure to be one that feels perfectly tailored to you and yours.
Take to the waters. With more than 100 natural thermal spas in Budapest, the options for soaking in the waters rich in magnesium, calcium and sulfate are plentiful. These pools are said to 'heal all that ails you' as your body effortlessly absorbs key minerals into the bloodstream; a great way to melt into your holiday. Traveller Tip: For a truly captivating day, consider the 100-year-old Gellert Baths which have been described as 'soaking in a Cathedral'. Pamper yourself with a pedicure, massage and a little sunbathing too.
Take a walk into Bohemia. Budapest's 8th district is blossoming with growth and a trendy vibe. Locals suggest spending a day wandering this area to explore the quaint rows of shops, cafes and restaurants. Traveller Tip: Check out the Macska Pub for an authentic pint in the old city.
Take in a bird's eye view of the city. The new Budapest Eye is one of Europe's largest Ferris wheels offering spectacular views of the city from the Danubian ships to Buda Castle and the temple towers of Pest. Traveller Tip: Book a spin at night to see the lights of the city.
Take a trip through history at one (or more) of the 40+ theatres and 100+ museums and galleries this city is famous for.
Just outside the city...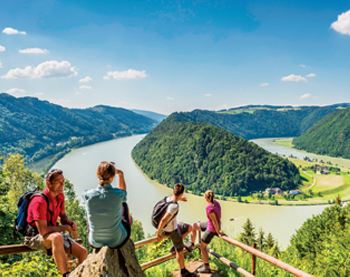 The Hungarian countryside is vast and beautiful, stretching out from the central city in all directions. Just 30 minutes North East of Budapest by car, lies the Royal Baroque Palace of Gödöllo. Starting at $90 Canadian, you can take a 4.5 hour tour complete with a visit to a traditional Hungarian farm topped off with a charming carriage ride...
Your guided tour will begin at your hotel in Budapest, where you will be picked up and driven 30 minutes northeast through the Hungarian countryside. You will then arrive at Gödöllo Palace, the opulent castle that hosted Hungarian Queen Elisabeth, also known as Sisi, and her husband Franz Joseph I, the Habsburg Emperor. With stunning gardens surrounding the property, the castle was presented as gift to the couple, who visited seasonally. Take a tour of the exterior landscape before traveling inside to see the Grand Hall and Sisi's private suite, adorned in her favorite shade of purple. Your guide will narrate the history behind the building, along with the juicer tales of the couple's secret lovers and hidden doorways. You'll also learn about the Queen's ardent equestrian interests.
Next, travel through idyllic countryside to an authentic Hungarian farm. You'll be offered a glass of Hungary's famous plum brandy, palinka, upon arrival, as well as pogácsa, delicious savory scones traditional to the region. Then, take a ride on a horse-drawn carriage to view the surrounding trails and fields of the property. After, you'll be treated to an impressive equestrian show, filled with fearless tricks and high-speed carriage races. Your tour will conclude with transportation back to your hotel in Budapest.
- Trip Advisor, Citirama Sightseeing tours.
Fun Facts!
Nearly 33% of the population of Hungary lives in Budapest which is now one of the largest cities in Europe.
Nearly 400,000 music lovers flock to Budapest every August for the weeklong Sziget Festival, one of the world's largest.
Budapest has one of the oldest surviving subway lines in the world (1896).
The name 'Budapest' came to be when cities Buda and Pest were united into one in 1873.
Currency
The official currency is the Hungarian Forint (HUF), however you can pay with Euros at several places. Traveller Tip: The Hungarian banks offer better exchange rates than the foreign ones so it's more beneficial to exchange money in Budapest than abroad. One Canadian Dollar will buy you approximately 210 HUF.
Weather
Budapest shows its charm best in spring and early autumn; though most tourists visit the city in summer. The city enjoys a 'long summer' starting in late April and lasting through to September, enjoying as much summer sunshine as many Mediterranean resorts.
Voltage
The power voltage in Budapest (as in much of Europe), is 230V and the standard frequency is 50hz. This means that if you don't want to blow up your electronics, bring both an adapter and converter. These can be easily found at Best Buy for a minimal charge.
Visa Requirements for Canadians
Canadians do NOT need a VISA for travel to the Hungary for stays of up to 90 days.
Getting to Budapest from Halifax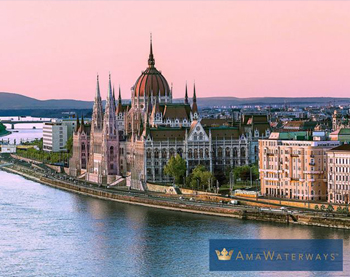 By air: With our fantastic international airport, those departing from Halifax have great options getting to Budapest. The optimal flights depart Halifax and either stop in Toronto or Frankfurt. Total travelling time is less than 11 hours, arriving between noon and 2:00pm.
By train: There are three main international railway stations in Budapest: Eastern (Keleti), Western (Nyugati) and Southern (Déli). More than 50 trains a day provide direct links between Budapest and 25 other European capital cities. Trains to Vienna run every three hours, seven times a day.
By river cruise: If you really want to treat yourself, book a river cruise that either begins or ends in Budapest. There are many incredible cruise lines to choose from. Speak with your Niche Travel Group agent to find the right one for you.
Planning your Budapest Holiday
Interested in learning more about Budapest? Contact us today!
ENRICHING YOUR LIFE ONE VACATION AT A TIME


Select your next adventure below and meet the expert who will help.