It may be the most magical place on earth, but Disney World can also come with a hefty price tag. There are countless ways to cut costs without cutting the magic, and with a little creativity and flexibility, the whole family can have an unforgettable Disney vacation without the post-vacation sticker shock.
How To Spend Wisely At Disney World:
Dining
Instead of sitting down for formal meals at restaurants, opt for quick service restaurants where you collect your food and then go find a table. Consider delicious options like Sautali Canteen in Pandora, Animal Kingdom and Peco Bill's in the Magic Kingdom, or Woody's Lunchbox in Hollywood Studios.
Booking a family suite with a kitchenette means you aren't reliant upon restaurants for all of your meals and can enjoy breakfast before departing for the park, or (location depending) head back mid-day for a lunch or snack.
Getting groceries delivered by a service like GardenGrocer instead of grabbing small bites at gift shops will save you a ton throughout your trip – and will mean you can pack snacks and meals to take with you on the go during your days at the park itself.
Accommodation
Want to stay on property? You may actually save money. All on-property resorts offer free transportation to and from the airport, to all of the Disney parks, waterparks, and Disney Springs.
Disney has a few types of resorts to consider. Value. Moderate and Deluxe resort.
If you plan on being in the parks all day long with older children a Value resort may be the way to go. A few differences to note: Value hotels will have pools but no waterslides, offer food-court dining options, and transport guests to the park by bus.
Moderate resorts are large and most feature a lake or river at their center. Most moderate resorts comfortably sleep up to five and are a favorite of families. Each resort in this category offers large pools with waterslides for kids, and typically offers additional amenities such as kiddie pools, outdoor playgrounds, volleyball courts, and more. These resorts offer both food-court and table service dining options and provide bus service into the park (except for Port Orleans Riverside and French Quarter, who both offer water taxis that transport guests to Disney Springs).
Is a Deluxe Hotel worth the splurge? If being close to the magic is important then choosing a Deluxe Disney Resort is key for proximity to the parks and special extras like extended hours. Unique resorts like Animal Kingdom Lodge, Polynesian or Grand Floridian are ideal for saving travel time, especially with small children, plus you have an amazing view of the nightly firework show.
You can also purchase a 5 night ticket and spend a day or two resort hopping and checking out the various free amenities and entertainment at unique resorts and downtown Disney
Tip: Stroll along Disney's Boardwalk
Walk along the relaxing and scenic Boardwalk, themed like a turn-of-the-century boardwalk. Stop into the Ample Hills Creamery for a free ice cream sample (or two.) Enjoy live street entertainers during the day and gorgeous views of the water at night. You can pack a lunch and have a quiet meal at one of the outdoor seating areas along the water.
If your family are outdoor lovers then camping at Fort Wilderness may be for you! Campers receive free transportation to and from parks, enjoy clean bathroom facilities and golf cart rentals.
Tip: Watch a Movie Under the Stars
Every night at Fort Wilderness, you can see a Movie Under the Stars. Usually scheduled to start just after sundown, watch a different classic Disney film every night of the week. Head there a little earlier for a free Campfire Sing-A-Long with Chip 'n' Dale. You can attend these nightly events even if you're not staying at Fort Wilderness! Other on-site resorts offer movies under the stars as well, so check with the concierge at your hotel for more details.
For The Kids
There's nothing quite so memorable as meeting your favorite Disney characters, and collecting their autographs is part of the fun! Instead of shelling out for an autograph book at the park, why not buy one in advance – or better yet, have your kids make their own?
Shiny souvenirs can be tempting, but even small trinkets can add up. Why not buy a handful of Disney-themed souvenirs well in advance (hello, Amazon) and give your kids a new one every day before venturing out in the park? They will have goodies to hang on to and your bank account will thank you.
If they really want a day to dress up as a Princess, Pirate or favourite Disney character, you can avoid the Bibbidi Bobbidi Boutique if you plan ahead and go shopping the day after Halloween and bring the costumes with you on vacation.
Want to visit the Happiest Place on Earth? Karen would love to put together an unforgettable Disney vacation for you and your family, contact her today at karen@marquistravels.ca or 902 462 6712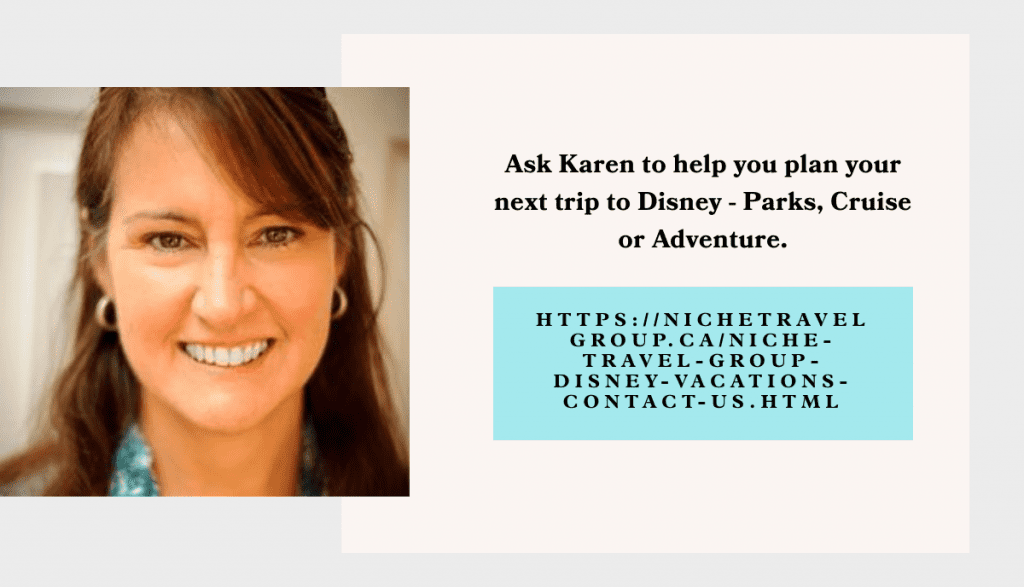 Important Covid19 Travel Update:
QR Codes are now available in Nova Scotia and this will be the official Canadian Vaccine Passport.
It is very easy to download this QR code and full vaccination status to your smart phone and save as a PDF for travel purposes.
Use the form below and get out your Nova Scotia Health Card
https://novascotia.flow.canimmunize.ca/en/portal

NICHE TRAVEL GROUP
1496 Bedford Highway
Bedford, NS B4A 1E5, Canada