Cuba and Caribbean Specialist
Jessica Dixon, Cuba and Caribbean Specialist
Jessica brings more than 25 years experience with over 50 personal and professional trips to Cuba and the Caribbean. What kind of holiday are you looking for this year? Whether it's a family, romantic, solo, destination wedding or group vacation, Jessica has you covered. She's here to save you time, money and stress, allowing you to relax and look forward to the beautiful turquoise bays and white sand beaches.
The Niche Travel Group Process
Discover - Together with your specialist we delve into your travel preferences, interests, and must-haves
Collaborate - Drawing on our experience and industry connections to present you with options
Design - A customized itinerary that works for you and yours!
To start, what is your ideal Cuba/Caribbean getaway? Is your focus to achieve a break from your day-to-day reality and release yourself into mindful bliss, free from responsibility and the pressures of everyday life? If yes, a magnificent all-inclusive resort with all of its many benefits may be just what you need.
Considered to be "stress free vacationing", all-inclusive resorts free you from spending time searching for restaurants or planning activities, leaving you with the ability to relax and enjoy every moment of your vacation; not to mention they offer great value. With everything already included in the price, there's no need to worry about unforeseen expenses and with the right report, you'll have your pick of activities and entertainment, including comedy shows, music nights, sport events, interesting tours, as well as sport and wellness facilities.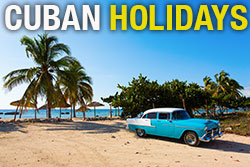 Ready for affordable luxury! Cuba and the Caribbean will spoil you with choice and we know all the spots inside and out. But beware the pretty pictures, as not all resorts are created equal. Ask us which ones are ideal for relaxation and romance. Or perhaps you're looking for activity-driven itineraries for kids and/or a large group. We're here to share our insight and make you the perfect getaway. Contact us today to find out more!
Did you know that travel has been scientifically shown to ignite romance and strengthen relationships.
ENRICHING YOUR LIFE ONE VACATION AT A TIME


Select your next adventure below and meet the expert who will help.